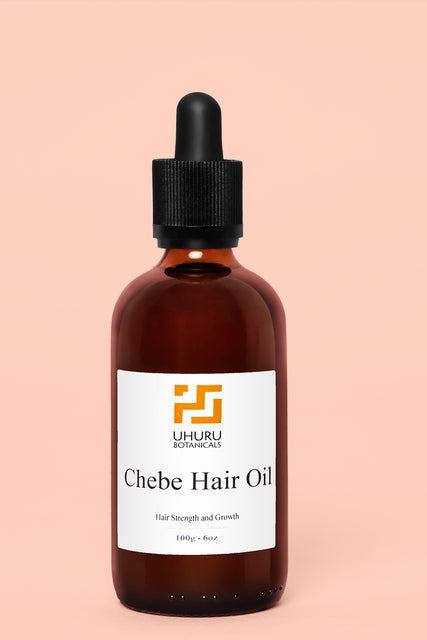 Uhuru Chebe Hair Oil

Easy Returns
FREE 30 DAY RETURNS
Delivery Information
Delivery information:
Estimated delivery after dispatch for UK orders is 5 -7 days.
International: We deliver world wide. To some countries the lead time might be a little longer.
For collection orders please pick up from our salon at: 16 Needham Road, London, W11 2RP.
The Chebe Hair oil restores dry and dull hair with a much-needed moisture. It tames the frizz and boosts shine, whilst keeping your scalp nourished and moisturised. Your hair will be left feeling soft and silky. It protects your hair from chemical styling and environmental damage, ensuring hair is stronger and easier to manage. Moisturises your hair with penetrating oils, strengthens and repairs, prevents hair breakage, split ends and promotes hair growth. 
Ingredients
Chebe Powder, Nigella Sativa (Black seed oil), Daucus Carota Sativa (Carrot seed oil), Ricinus Communis (Castor oil), Camelina Sativa (Camelina seed oil), Perse Gratissima oil (Avocado oil), Argania Spinosa Kernel oil (Argan kernel oil), Tocopherol (Vitamin e), Rosmarinus Officinalis Leaf oil (Rosemary), Lavandula Angustifolia (Lavender).
How to use
Best applied by sectioning off pieces of hair and applying three to five drops of oil to the scalp, massaging with your fingertips to ensure it reaches your scalp skin. Make sure to spread evenly, paying special attention to stress areas.  Chebe hair Oil can be applied 2-3 times a week. 
For the ultimate night-time repair ritual, apply 2-3 drops along sections of brushed, parted hair and massage as if shampooing to cover roots and scalp, working oil through to ends. Once applied (you may wish to cover your pillow a towel), sleep well, wake and wash as normal. 
If you prefer, leave in for 2hrs, as that is sufficient time for the oil to penetrate and nourish scalp and roots and then wash as normal. Use twice weekly for the first six weeks (and on holiday, when hair can become particularly parched) and weekly thereafter. Regular treatment helps reduce premature thinning, adds thickness, softness and shine.
Caution 
Patch test 24hrs before use.