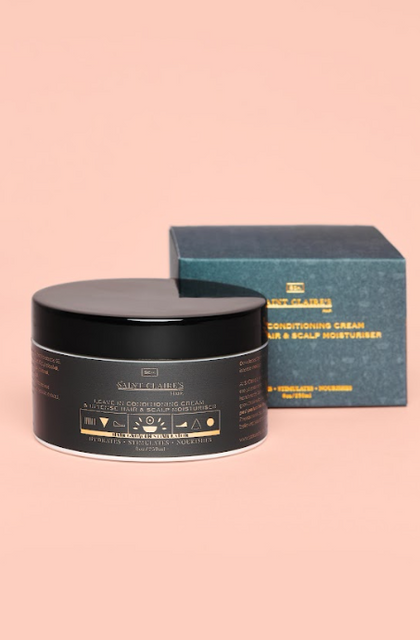 St Claire's Leave In Conditioner Cream & Intense Hair & Scalp Moisturiser

Easy Returns
FREE 30 DAY RETURNS
Delivery Information
Delivery information:
Estimated delivery after dispatch for UK orders is 5 -7 days.
International: We deliver world wide. To some countries the lead time might be a little longer.
For collection orders please pick up from our salon at: 16 Needham Road, London, W11 2RP.
Developed using specially selected herbs and refined to create a potent hair growth stimulant and moisturiser, our products tackle various common problems such as:
alopecia, post-partum hair loss (telogen effluvium), thinning, balding, scalp irritation, dandruff
& dryness.
Phenomenal hair for the phenomenal you lie within this robust blend & the first step is simply believing you deserve it.
Directions
Apply sparingly to sectioned, dry or DAMP hair. Massage into scalp and hair – apply extra product to the tips for very dry hair. Perfect for use after washing or before blow drying and styling. Leaves hair soft and provides long lasting moisture.
Ingredients
Water, Glycerin , Ricinus Communis (Castor Oil), Olea Europaea (Olive Oil), Rosemarinus Officinalis (Rosemary), Emulsifying Wax, Natural herb blend, Essential oil blend, Preservative.
We advise a 48-hour skin patch test is taken before use. If any irritation occurs DO NOT USE
No Sulfates ◦ No Synthetics ◦ No Animal Testing
Handmade in the UK by a phenomenal team for phenomenal people
250ml