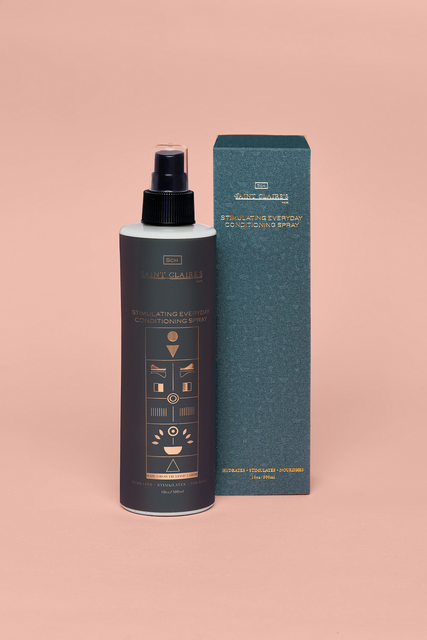 St Claire - Stimulating Everyday Conditioning Spray

Easy Returns
FREE 30 DAY RETURNS
Delivery Information
Delivery information:
Estimated delivery after dispatch for UK orders is 5 -7 days.
International: We deliver world wide. To some countries the lead time might be a little longer.
For collection orders please pick up from our salon at: 16 Needham Road, London, W11 2RP.
Description: This powerful & dynamic hair growth stimulator stimulates hair growth and provides intense moisture.
At St Claire's, we want you to indulge in phenomenal hair care…why? Well because the truth is you are phenomenal & you deserve to feel & know it. This truth is why we've created our expertly handmade formula.
Developed using specially selected herbs and refined to create a potent hair growth stimulant and moisturiser, our products tackle various common problems such as:
Alopecia, post-partum hair loss (telogen effluvium), thinning, balding, scalp irritation, dandruff & dryness.
Phenomenal hair for the phenomenal you lies within this robust blend & the first step is simply believing you deserve it.
We advise a 48-hour skin-patch test is taken before use. If any irritation occurs DO NOT USE.
Ingredients: Aqua, Glycerin, Polysorbate 80, Olea europaea fruit oil, Ricinus communis seed oil, Rosmarinus officinalis leaf oil, Cetyl alcohol, Phenoxyethanol, Tocopherol, Ethylhexylglycerin, Helianthus annuus seed oil, Rosmarinus officinalis extract, Urtica dioica extract, Mentha piperita extract, Thymus vulgaris extract, Limonene, Linalol.
How to use:
Shake well before use.
For use whilst wearing wigs/weaves: Spray every day directly onto cornrows and scalp. Massage in then apply wig. Repeat day & night if desired. Moisturises, nourishes and stimulates hair growth whilst in its protective style.
For use on natural/relaxed hair: Spray onto DRY hair and scalp for hydration or to soften hair before detangling/styling. For maximum results use St Claire's Hair Leave-In-Conditioner. Leaves hair soft and provides long-lasting moisture.
For use whilst wearing braids: Spray onto scalp and massage.