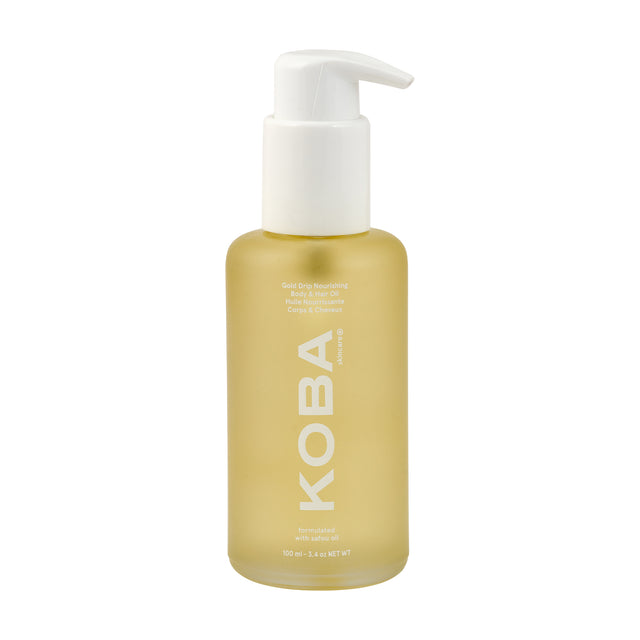 Gold Drip Nourishing Body & Hair Oil

Easy Returns
FREE 30 DAY RETURNS
Delivery Information
Custom Orders Only: Due to the bespoke nature of our products it may take up to 3 business days to prepare your order for dispatch.
Estimated delivery after dispatch for UK orders is 5 -7 days.
International: We deliver world wide. To some countries the lead time might be a little longer.
For collection orders please pick up from our salon at: 16 Needham Road, London, W11 2RP.
A multi-purpose revitalising oil for body and hair. This golden elixir is enriched with a blend of 8 luxurious plant oils packed with all the essential vitamins, proteins, and antioxidants your skin and hair needs to feel intensely nourished. A versatile product that can be used as a body, hair, bath, massage, cuticle and face oil. Comes in an elegant glass bottle with a pump feature delivers our rich and complex blend of skin and hair-loving ingredients to rejuvenate, clarify and tone. 
A few pumps massaged into the skin softens, illuminates and imparts an elegant satin veil. This lightweight, non-greasy oil sinks in to reveal that coveted sun-kissed glow all year round. As a hair oil, Gold Drip injects moisture and shine back into lacklustre locks, hydrating and protecting each strand for smoother, softer hair. Can be used as a hair mask to nurture healthy hair from root to tip or as a daily leave in routine to refresh, strengthen and soften your lengths and strands as desired.
KOBA's signature safou scent gets a captivating twist with notes of rose, jasmine and patchouli for an entrancing sensorial experience. 


Skin Type:
Normal / Dry / Very Dry Skin
Benefits:
Protects, Nourishes, Hydrates, Restores Radiance, Illuminates, Rejuvenates, Strengthens, Tones.
Ingredients

:
100% Naturally Derived Ingredients, Safou Oil, Sweet Almond Oil, Jojoba Oil, Grape Seed Oil, Plum oil, Baobab oil, Argan oil, Sesame Oil.