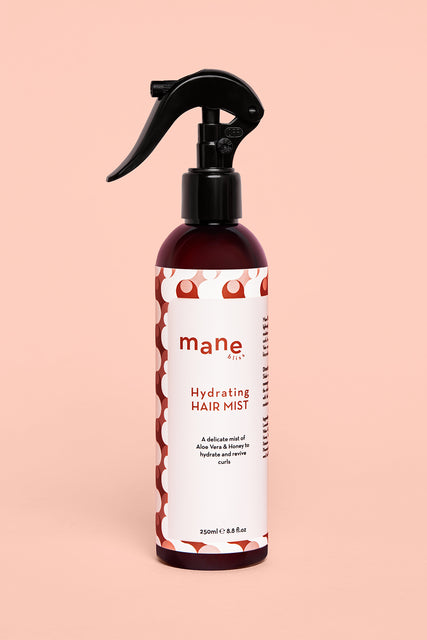 Mane Bliss Hydrating Hair Mist

Easy Returns
FREE 30 DAY RETURNS
Delivery Information
Delivery information:
Estimated delivery after dispatch for UK orders is 5 -7 days.
International: We deliver world wide. To some countries the lead time might be a little longer.
For collection orders please pick up from our salon at: 16 Needham Road, London, W11 2RP.
Refresh, rehydrate and refine your curls with this intense replenishing mist! Formulated with the best that nature has to offer; Lavender Flower Water, Honey, Aloe Vera and Pro-vitamin B5 work together to quench thirsty curls and protect against environmental stressors.  
Spritzing with tap water leads to chlorine and harsh metal build up, leaving the hair brittle, dry and dull. However this Hydrating Hair Mist recharges the strands giving an added boost of shine and softness.
INGREDIENTS & BENEFITS:
Honey: A natural humectant with a potent moisture-binding capabilities to hydrate hair.

Aloe Vera: The natural goodness of Aloe Vera moisturises, softens strands, and soothes the scalp.

Pro-vitamin B5: Hydrates and repairs damaged hair preventing breakage and split ends.

Lavender Flower Water: The Scalp-soothing and antimicrobial activities of Lavender create a perfect environment for healthy and stronger hair.

Deionised Water (Aqua), Lavandula Angustifolia (Lavender) Flower Water, Glycerin, Hydroxypropyltrimonium Honey, Panthenol (Pro Vitamin B5), Potassium Sorbate, Sodium benzoate, Phenoxyethanol, Aloe barbadensis (Aloe vera) leaf powder, Citric acid
HOW TO USE:
Spray onto hair, comb/finger through and massage to add deep hydration focusing on parched ends.

Apply lightly over hair to revitalise and refresh your twist outs or braids outs and to re-activate your third or fourth-day hair in between washes.
HAIR TYPES & CONCERNS
Solution for dryness, dullness, and frizz in wavy, curly or coily hair