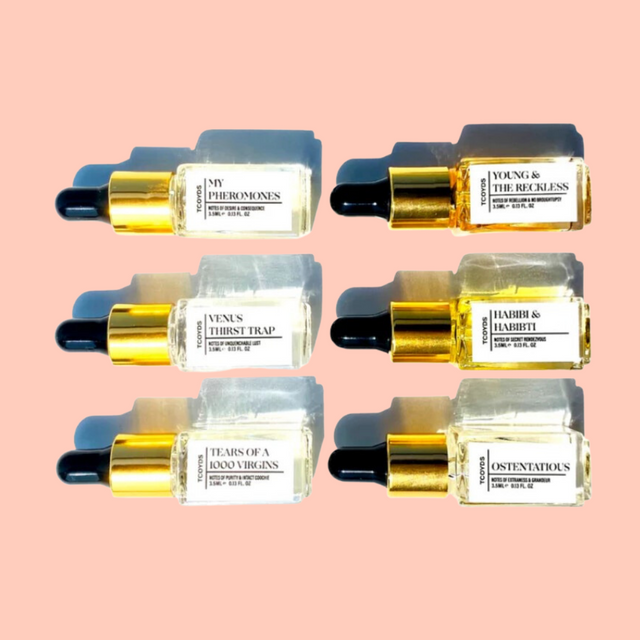 Mischief Maker perfume oils Vol 1

Easy Returns
FREE 30 DAY RETURNS
Delivery Information
Custom Orders Only: Due to the bespoke nature of our products it may take up to 3 business days to prepare your order for dispatch.
Estimated delivery after dispatch for UK orders is 5 -7 days.
International: We deliver world wide. To some countries the lead time might be a little longer.
For collection orders please pick up from our salon at: 16 Needham Road, London, W11 2RP.
6 X 3.5ML BOTTLES OF:
TEARS OF A 1000 VIRGINS 
NOTES 
ESSENCE OF CITRUS FRUIT AND VANILLA MIXED WITH FLORALS OF JASMINE & 
SOFT POWDER & MUSK
VENUS THIRST TRAP
SENSUOUS FULL BLOOM ROSE WITH AN EARTHY DEEP MUSK
MY PHEROMONES 
ESSENCE OF LEATHER, MUSK, AND AMBER, WITH RICH CAMBODIAN
& INDIAN OUDH
INTOXICATING MUSK ENCAPSULATES AN EARTHY AMBER & RAVENOUS SEDUCTIVE ROSE
A WARM VANILLA & CAKEY CARAMEL WITH CITRUSY BERGAMONT, UPON AMBER, SOFT SANDALWOOD AND MUSK,
AND SLIGHT AMBER
YOUNG & THE RECKLESS 
GERANIUM, NAGARMOTHA, FLAVOURFUL SPICE W/ MUSK, AMBER AND SUBTLE SAFFRON, SANDALWOOD, PATCHOULI,
AND CEDARWOOD