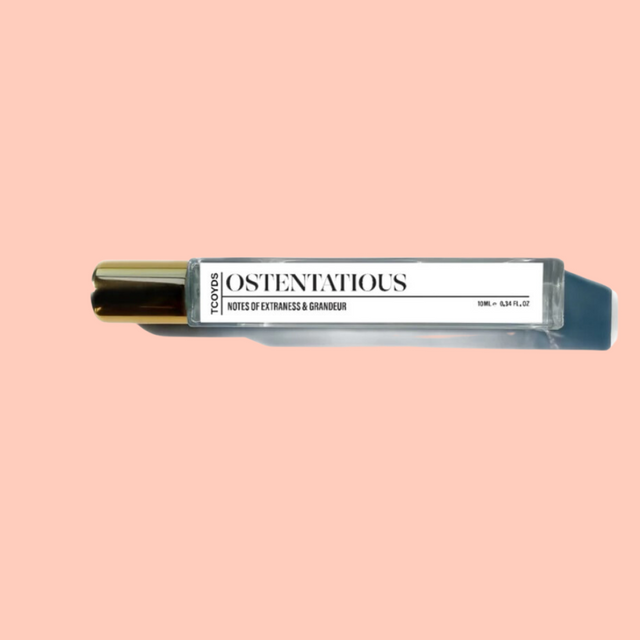 Ostentatious perfume oil

Easy Returns
FREE 30 DAY RETURNS
Delivery Information
Custom Orders Only: Due to the bespoke nature of our products it may take up to 3 business days to prepare your order for dispatch.
Estimated delivery after dispatch for UK orders is 5 -7 days.
International: We deliver world wide. To some countries the lead time might be a little longer.
For collection orders please pick up from our salon at: 16 Needham Road, London, W11 2RP.
OSTENTATIOUS 
This blend of Amber and Musk is not to be toyed with. You put this on if you're planning on adding to the extraness that is you. You wear this knowing your attitude is off the charts and you don't give damn bout nobody but yourself! I'm sorry for who has to deal with your possessed booty today because honey, you're ostentatious.
Why are you like this?! 
NOTES 
INTOXICATING MUSK ENCAPLSULES AN EARTHY AMBER & RAVENOUS SEDUCTIVE ROSE
INGREDIENTS
Alpha Isomethyl Ionone, Amyl Cinnamal, Anise Alcohol, Benzyl Cinnamate, Abelmoschus Moschatus, Attar of Rose, Linalool, Eugenol, Geraniol, Hydroxycitronellal, Hexyl Cinnamal, Benzyl Benzoate
If signs of irritation occur, discontinue use immediately.
If irritation continues contact a doctor. 
Keep out of reach of children. Store in room temperature and keep the bottle out of direct sunlight to maintain its strength.

10ML ℮ 0.34 fl.oz.