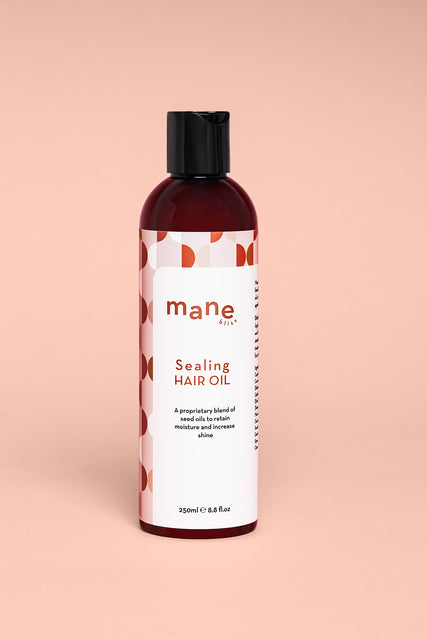 Mane Bliss Sealing Oil

Easy Returns
FREE 30 DAY RETURNS
Delivery Information
Delivery information:
Estimated delivery after dispatch for UK orders is 5 -7 days.
International: We deliver world wide. To some countries the lead time might be a little longer.
For collection orders please pick up from our salon at: 16 Needham Road, London, W11 2RP.
A blend of rich seed oils, bursting with antioxidants, essential fatty acids and scalp-stimulating properties. Our oil penetrates the hair shafts and builds an invisible protective film, to soften strands and protect your hair from pollution, and the mechanical damage caused from styling. Nourishing the roots and creating an optimal environment for healthy hair growth, the result is shinier, stronger, hair with a super-smooth finish. 
INGREDIENTS & BENEFITS:
Babassu Oil : With a high content of fatty acids, vitamin E and other antioxidants, this nourishing Amazonian oil softens strands while soothing and protecting the scalp.

Pracaxi Oil: This conditioning miracle is a gift from Amazon that seals in moisture, softens, and strengthens the hair while promoting regrowth.

Pataua Oil: Known for restoring hair after styling damage, this oil is rich in omega 9 that keeps the scalp hydrated, nourished, and protected while promoting follicle health for hair growth.

Jojoba Oil: This unique oil is an excellent treatment for dry and dull hair thanks to the fatty acids, antioxidants, and nutrients. It is also naturally scalp-soothing and dandruff-fighting.

Caprylic Triglyceride (Fractionated Coconut Oil), Orbignya Oleifera (Babassu) Oil, Simmondsia Chinensis (Jojoba) Seed Oil, Bertholetia Excelsa (Brazil Nut) Oil, Oenocarpus Bataua (Pataua) Fruit Oil, Pentaclethra Macroloba (Pracaxi) Seed Oil, (Tocopherol) Vitamin E, Citrus Aurantium Dulcis (Sweet Orange) Essential Oil, Dipropylene glycol, Styrax benzoin (Benzoin) Gum Oil, Citrus Reticulata (Tangerine) Peel Oil
HOW TO USE:
As a Serum - Run a small amount through damp or dry hair, from roots to the end, for instantly soft & shinier hair.

As a Treatment - Apply 3-4 pumps or as needed to the sectioned hair, massage for 2-3 minutes, leave for overnight, and shampoo for an intensely nourishing treat.

For an Extra Boost of Hydration - Add a few drops to your regular conditioner to add intense hydration to your parched hair.
HAIR TYPES & CONCERNS:
Solution for damage, dryness & dullness in wavy, curly or coily hair.